The EU Delegation to Korea organized a bike ride event, EU photo exhibition and the Roundtable discussion on sustainable mobility: Reducing Emissions from transport in EU and Korea. The events are part of the EU's global initiative – 'EU Climate Diplomacy Week' aiming to raise public awareness on climate issues.
Seoul Car Free is celebrated worldwide – World Car Free day of 22 September – and the Seoul City is proud being part of it jointly with the European Union. Mayor Park together with EU Ambassadors representing 17 countries rode Seoul City bikes with the EU's chosen slogan of 'Burn Calories: Not Petrol'.
The EU photo exhibition on green architecture 'Sustainable Living Space in the EU' was held in Seoul from 25~29 September and is to be continued in Busan from 7~12 October. The exhibition consists of 29 photos of 'green' buildings provided by 17 EU Member States. (Austria, Belgium, Czech Republic, Denmark, Finland, France, Germany, Greece, Italy, Latvia, the Netherlands, Poland, Portugal, Slobakia, Spain, Sweden, United Kingdom).
If there're any comments on EU Climate Change photo exhibition, please reach us at euccop@gcpiasia.com.
(September 25 – Seoul City Hall, Sejong Center)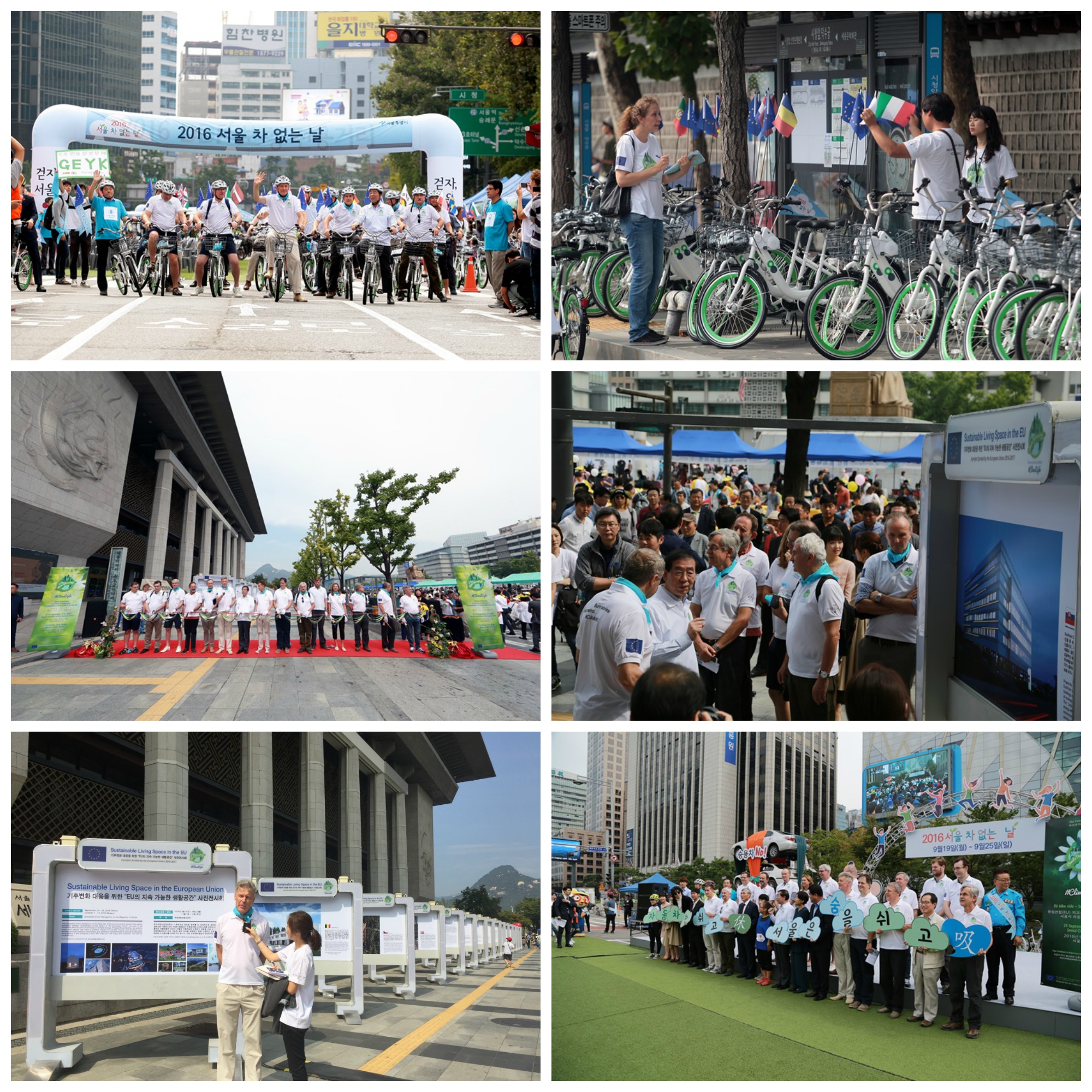 The half-day roundtable invited renowned academics, business, government officials as well as EU officials for discussion. Notably, Dr Joëlle Hivonnet, Political Head of the EU Delegation presented the European Strategy for low-emission mobility, while Dr Young-Tae Kim, Deputy Director-General at Ministry of Land, Infrastructure and Transport outlined Korea's transportation policy for green-house gas emission (GHG) reduction. In addition, the European and Korean experts presented specific cases and technological aspects of low-carbon mobility.
(September 28 – JW Marriott Dongdaemun Square)
(October 7 – Busan Station Plaza)