Events in Korea in 2013 
March 2013
14th  Asian Investor KOREA Awards 2013 Seoul, Korea
Asian Investor Korea Awards 2013 was held on 14 March at Chosun Westin Hotel (Orchid room). It has been held for 3 years consecutively, the first one at Lotte Hotel and 2nd & 3rd at Westin Chosun Hotel (Orchid room). The new table number tent was quite classy. The Palm: Your Event Partner in Korea assisted with a backdrop, stage, form-boards this time. 3 hr evening program: cocktail reception – welcome remarks – dinner – awards presented by Leigh Powell, editor, Terry Rayner & Dr. Lee, Insup (starts at 645pm & ends at 930pm)
18th ~ Small Cell Asia Conference and Forum meetings, Seoul, Korea
Small Cells Asia 2013 conference and forum meetings are held at Gangnam Novotel Hotel from 18 March through 21 March. The Palm: event services in Korea is assisting event organizer from UK with AV services, sound system, stage & backdrop, equipment rental, manpower and overall production management.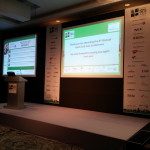 19th  Global Business Plaza 2013 Seoul, Korea
April 2013
3rd  Photonics Seoul Korea
3rd  Green Energy Expo Daegu, Korea
11th  Coffee Expo 2013 Seoul, Korea
14th Ieee Haptics Symposium Deajeon, Korea
17~18th  Biologics World Korea 2013 Seoul, Korea (17-18 April 2013 | Songdo Convensia Center, Incheon, Korea)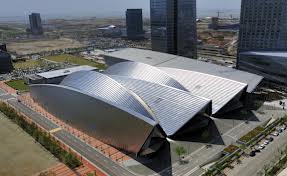 Songdo in South Korea, is – for many – the poster boy of the smart city. The $35bn (£23bn) project, located on reclaimed land near the Yellow Sea, was widely considered to be a model for smart cities around the globe when it was started in 2005.
Also known as a ubiquitous city or U-city, Songdo's information systems are all linked to each other. It has led critics to dub it a "city in a box" – a showcase for technology but not necessarily the ideal city for people.
Sensors are on everything in Songdo – for example, escalators only move when someone is on them.
Every home has a telepresence system built in like a dishwasher. As well as allowing users to control the heating systems and locks, it offers video conferencing and is intended as a way to deliver education, health care and government services.
Offices and schools are also connected to the network.
The digital mastermind behind Songdo is Cisco, which supplies all the network-based technologies.
The city is due for completion in 2015, by which time it will be home to 65,000 people and 300,000 workers.
17~20  IPBA 2013
18th  9th International Congress on Mental Disorders & Other Non-Motor features in Parkinson's Disease and Related Disorders Seoul, Korea
18~21  Jewelry Fair Korea 2013 (11th Korea International Jewelry & Watch Fair) Seoul Korea
25th  Seoul International Wines & Spirits Expo 2013 Seoul, Korea
May 2013
1st  2013 2nd International Conference on Machine Design and Manufacturing Engineering (ICMDME 2013) Jeju Island, Korea
2nd  The 1st Seoul-International Congress of Endocrinology & Metabolism Seoul, Korea
4th  Early Study Abroad & English Camp Fair 2013 Seoul, Korea
8th  Global Electric Power Tech 2013 Seoul, Korea
9th  International conference of the Korean Association for Multicultural Education Seoul, Korea
9th  8th International Conference on. Grid and Pervasive Computing (GPC 2013) Seoul, Korea
11th  2013 2nd International Conference on Network and Computing (ICNCT 2013) Seoul, Korea
11th  2013 2nd International Conference on Database and Data Mining (ICDDM 2013) Seoul, Korea
11th  2013 4th International Conference on Material and Manufacturing Technology (ICMMT 2013) Seoul, Korea
12th  ISRS2013 Jeju, Korea
14th  International Food Industry Exhibition 2013 Seoul, Korea
26th  International Conference on Multiphase Flow 2013 Jeju, Korea
27th  International Conference on New Interfaces for Musical Expression Seoul, Korea
June 2013
8th  3rd World Congress of Thoracic Imaging Seoul, Korea
18~23  PACIS (Pacific Asia Conference on International Information Systems) 2013  Jeju Korea
23rd  The 20th IAGG World Congress of Gerontology and Geriatrics Seoul, Korea
26~27  Global TransporTECH 2013  Seoul, Korea
27th  International Symposium on Education, Psychology, Society and Tourism Seoul, Korea
27th  International Symposium on Fundamental and Applied Sciences (ISFAS) Seoul, Korea
28th  The Annual Conference on Engineering and Information Technology (ACEAIT 2013) Seoul, Korea
30th  International Congress of Toxicology 2013 Seoul, Korea
30th Asian Mathematical Conference Busan, Korea
July 2013
3rd   2013 International Conference on English Linguistics Seoul, Korea
8th  Pharma Trials Korea 2013 Seoul, Korea
13th  2013 Modern English Education Society International Conference Seoul, Korea
24th  Asian Conference in Education and Technology (ACET 2013) Seoul, Korea
August 2013
18th  9th World Congress of Chemical Engineering Seoul, Korea
22nd  5th Asian Congress of Health Psychology Deajeon, Korea
25th  ICER13_Symposium on Hydrogen Energy and Fuel Cells Seoul, Korea
26th  IUSSP International Population Conference Busan, Korea
26th  The 7th world congress on Biomimetics, Artificial Muscles and Nano-Bio (BAMN2013) Jeju, Korea
29th  International Convention on Rehabilitation Engineering and Assistive Technology (i-CREATe) Gyeonggi, Korea
September 2013
ICAO (International Congress on Abdominal Obesity) 2013  
12~14 September 2013  /  Grand Hilton Hotel, in Seoul, Korea
Since the registration for ICAO 2013 has begun, with the flourishing movement on the early registration, fellows and experts from 30 countries have already registered. At the congress, an important scientific platform, unmet needs to examine the various causes of abdominal obesity will be examined. Professionals in the field of abdominal obesity will also highlight emerging concepts with a focus on translation to define a new paradigm for assessment and management as well as discuss novel approaches and share scientific and clinical data to benefit regional healthcare professionals, clinicians and scientists.
For more information, please visit www.icao2013.myhealthywaist.org/
Satellite Symposium on Targeting gut hormones: effects on appetite, weight and cardiometabolic outcome is scheduled on 12 September from 3pm ~ 5pm at the Convention Hall C before ICAO opening session (5:30pm ~).
October 2013
1~4  International Congress of the International Psychogeriatric Association (IPA) Seoul, Korea
3~7  Korea International Art Fair  Seoul, Korea
18~20  5th Topokki & Rice Noodle Festival
Topokki Cooking Class event is a part of variety of events to be held during the 5th Topokki & Rice Noodle Festival. The festival will be held from 18 ~ 20 October at aT Center.
*Name of event: Topokki cooking class (English/Korean)
*Event Date:       Saturday, 19 October 2013
*Event Time:       14:00 ~ 15:00
*Venue:               aT Center (Yangjae-dong)
*Participants:       Anyone who loves Topokki
*Host:                  Ministry of Agriculture, Food and Rural Affairs of Korea
*Website:             http://www.rice-topokki.com
*Remarks:            Free of charge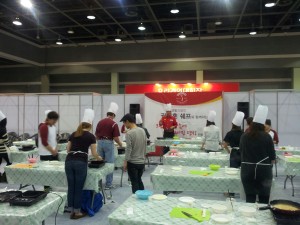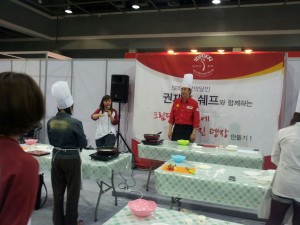 21~23  11th Annual FLNG Asia Summit
*Venue: Renaissance Seoul Hotel
*Organizer: IQPC Worldwide Pte Ltd
24~26  Special Seminar on North Korean Human Rights (Date: October 24 ~ 26, 2013)
*Venue: Namsan Literature House
*Invited Speakers:
Marian Botsford Fraser, Chair of Writers in Prison Committee of International PEN, Canada
Chang Haesung, President of North Korean Writers in Exile PEN Center
Suzanne Schote, North Korean Human Rights Activist, USA
Do Myunghak, Secretary-General of North Korean Writers in Exile PEN Center
Job Dignner, Poet & International Human Rights Activist, Netherlands
27th  IEEE Nuclear Science Symposium and Medical Imaging Conference Seoul, Korea
30th  2013 International Conference on the "Challenges in Environmental Science and Engineering" (CESE-2013) Daegu, Korea
31st  International Space Syntax Symposium Seoul, Korea
November 2013
3rd  ICONIP2013 Daegu, Korea
3rd  APCE 2013 (13th Asia Pacific Symposium on Microscale Separation and Analysis) Jeju, Korea
4th 2013. 11. 4 연합뉴스 신사옥 준공식
Yeonhap news building completion ceremony on 4 Nov. 2013
(back-wall, AV, sound system, lighting system, VIP tape cutting, professional event staff etc)
6th  Food Week Korea Seoul, Korea
14th  G-Star Conference Party
*Venue: 247 Bar, Busan Korea
*Host: Steel Media Ltd.
*Sponsor: NativeX, Cocoa China
*Guests: 300 people from mobile games industry